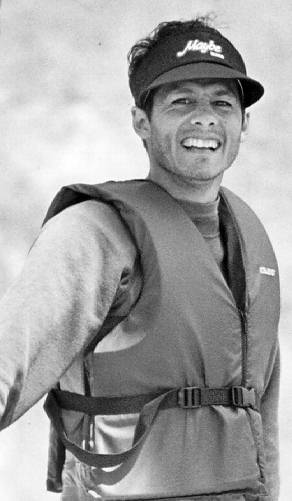 Skipper: Bruce Schwab
Boat: Rumbleseat - 30 Square Meter (1930)
PHRF Rating: 120
Yacht Club: SSS
Homeport: Alameda
Occupation: Rigger, Svendsen's Marine
Age: 36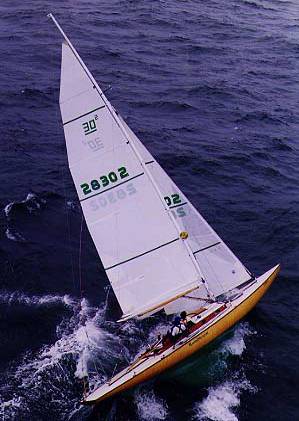 Bruce, one of the youngest competitors in this year's race, is sailing one of the oldest boats ever to compete. And therein lies a story. Although he has owned the classic 39-ft Rumbleseat for 15 years, Bruce notes that, "I've only been sailing it for three." In 1992, with a year to go on the 12-year restoration/upgrade, the normally clean-cut Schwab determined he wasn't going to cut his hair until the boat was done. As you might imagine, the former bicycle racer looked more like a Harley biker by the time the boat was finally relaunched in December of 1993. Bruce, once again presentable, has been sailing hard ever since.
Actually, Bruce has been sailing a variety of boats hard in shorthanded races for more than 10 years. He has won his class seven or eight times in the Double-handed Farallones, and last year finally broke his perennial bridesmaid standing in the Singlehanded Farallones Race by winning his division there, too.
Bruce is an ardent admirer of long, slender boats, which he feels are much easier to sail to their ratings shorthanded. A dynamic competitor, excellent sailor and Hawaii veteran (he's done crewed TransPacs in '87 and '91), Bruce is the pre-race favorite to take overall race honors in 1996. "I'm sailing a 66-year-old boat, but everyone tells me I'm going to win," he says. "It's starting to bother me."
As skipper of the only sponsored boat in this year's race, Bruce extends thanks to Svendsen's Marine, Harken, Ronstan, UK Sails, Waypoint Marine, Uni-Solar, Clif Bars and Garmin for their support. Individuals deserving of special recognition in his effort include Jennie Souza, fellow SSS TransPac competitor Eric Jungemann, Stuart Hellman, Carlos Badell and Jim Plumley.
Navigation: Garmin GPSs (2), sextant backup; Steering: Autohelm 4000T, Auto-helm 2000T backup; Food: Nothing special except Clif Bars, a high-energy snack popular with rock climbers.
Singlehanded Sailing Society
P.O. Box 1716, Mill Valley, CA 94942
415-332-5073 or 707-745-6979
List of boats | '96 TransPac | SSS | Positions | Sailing Links | Weather Links
---
This site maintained by Wingo Bay